Results of the 2023 March Break Movies Poll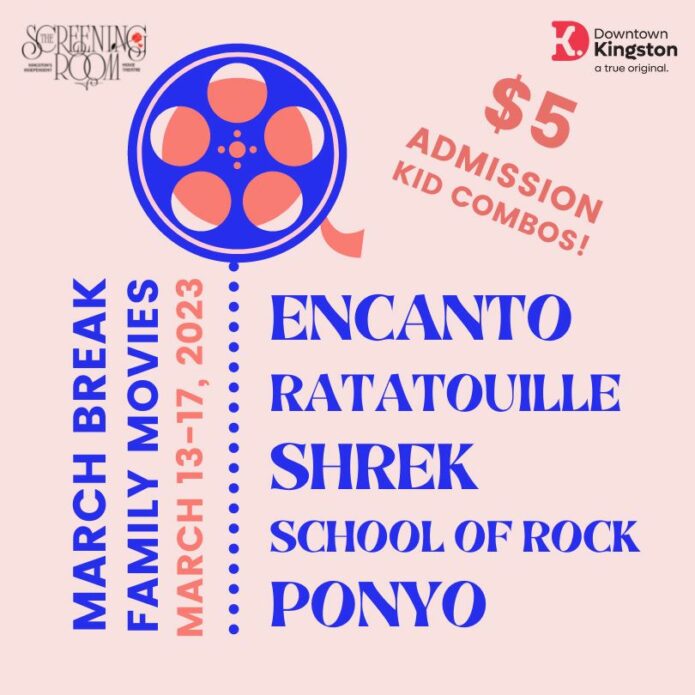 A big thanks to the 351 people who completed our poll of which movies to play for our upcoming $5 March Break Movies series at The Screening Room!
The five movies we will play over March 13-17, 2023:
Tickets cost only $5 each, and we're offering a range of showtimes for each film (10:30am, 2:30pm, 6pm). View full details about the March Break Movies series.
Family movies beyond March Break: Going forward, we plan to play a family-friendly film on the first Saturday of each month: first up is Fantastic Mr Fox on April 1, with The Princess Bride, E.T., Inside Out and other popular picks coming in the months ahead.
* We originally planned to play My Neighbor Totoro, but it is temporarily unavailable from the film's distributor. Instead we selected Ponyo, one of Miyazaki's other films that's particularly enjoyable for younger kids. Totoro will play later in the year!
| | |
| --- | --- |
| # of Votes | Movie |
| 131 | Encanto (2021) |
| 124 | The Princess Bride (1987) |
| 118 | Ratatouille (2007) |
| 113 | Shrek (2001) |
| 103 | School of Rock (2003) |
| 99 | My Neighbour Totoro (1988) |
| 98 | Fantastic Mr. Fox (2009) |
| 95 | Inside Out (2015) |
| 92 | E.T. (1982) |
| 92 | Howl's Moving Castle (2004) |
| 91 | Beauty and the Beast (1991) |
| 86 | The Lion King (1994) |
| 83 | Puss in Boots: The Last Wish (2022) |
| 83 | Zootopia (2016) |
| 76 | Aladdin (1992) |
| 76 | Coco (2017) |
| 75 | Frozen (2013) |
| 73 | The Lego Movie (2014) |
| 65 | The Iron Giant (1999) |
| 60 | Minions: The Rise of Gru (2022) |
| 54 | The Paw Patrol Movie (2021) |
| 48 | Minions (2015) |
| 14 | The Secret of Kells (2009) |