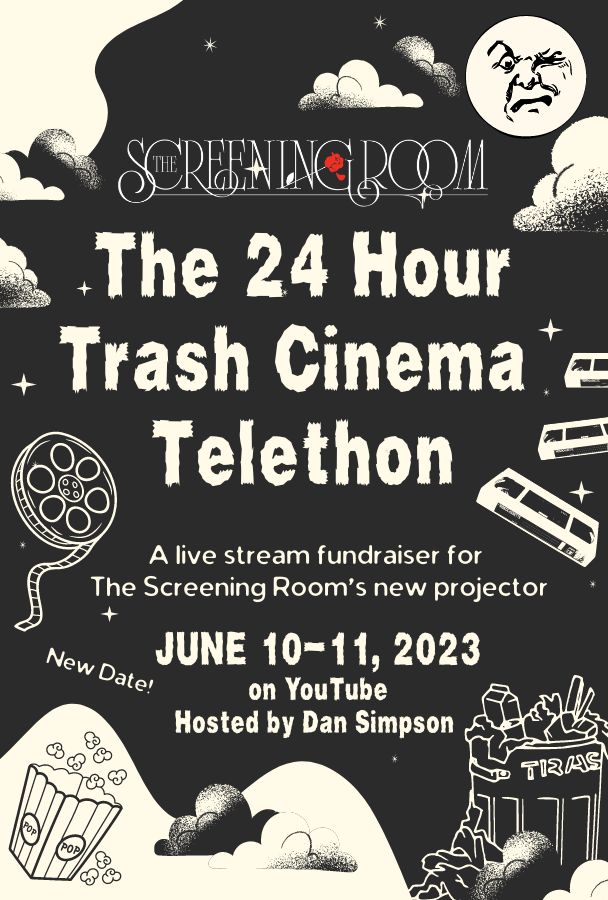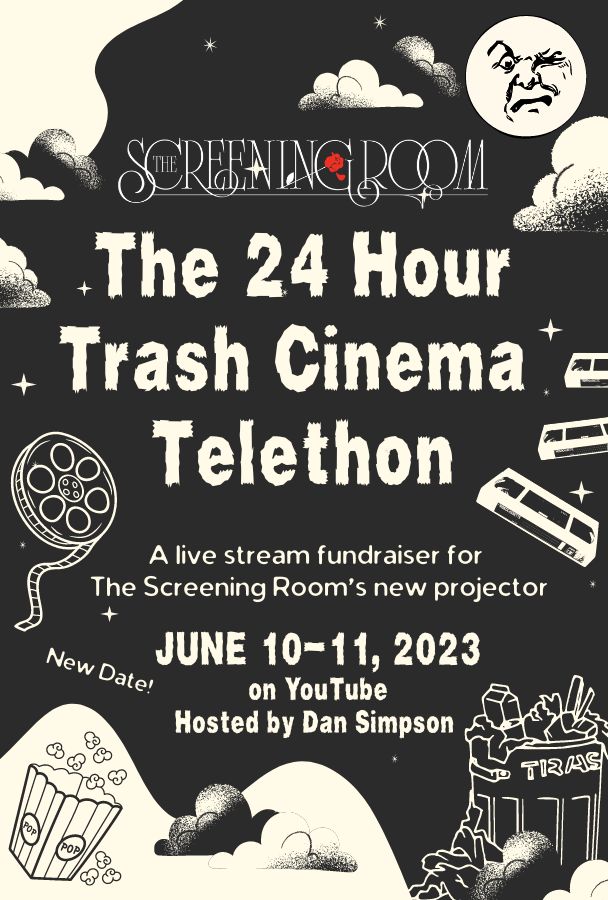 A livestream fundraising event for The Screening Room
Saturday June 10 to Sunday June 11 (11am to 11am)
Join host Dan Simpson (creator of Eyebrow Cinema) for a cinematic endurance test, in support of The Screening Room's 2023 Donation Drive. Dan will be broadcasting a 24 hour movie marathon of the finest bargain bin B movies, all secretly chosen, and offering running commentary with Jordan Richards along the way… which is sure to get loopy as the hours wear on.
The live stream will take place on YouTube (livestream link). Watch & laugh along, and make tips & donations directly on the stream.
The Movie Lineup
The movies themselves are a closely-guarded secret, but here's a genre listing of what you can expect to see:
11:15am: Monster Movie – Legendary Actor. Not So Legendary Monster
12:40pm: Zombie Movie – The Undead are Teenagers
2:10pm: Film Noir – Hey Look, it's Jackie Gleeson
3:30pm: Sci-Fi "Epic"
5:20pm: Adventure Movie – Jaws doesn't come close to the Shark God
6:30pm: Film Noir – Hey Look, it's Vincent Price
8:10pm: Mystery – A Single Spooky Evening
9:30pm: Monster Movie – Legally, they couldn't call the movie "Yeti"
11:15pm: Thriller – "Bela" Noche
12:45am: Zombie Movie – The Living Dead and Their Royalty
2:10am: Crime Film – A Crime Drama That's Up to No Good
3:50am: Sci-Fi/Horror – Bodies for Sale!
5:15am: Ghost Movie – A Terrifying Story of Supernatural Passion
6:45am: Monster Movie – Big Monkie. Bigger Problems.
8:20am: Sci-Fi/Horror – No One is Safe as Long as This Head Hunting Thing Roams Free
9:45am: Crime/Music Film – Shoots a Man in Reno. Just to watch them Die.
| | |
| --- | --- |
| Genre | |
| Runtime | 24 Hours |
| Rated | 14A |
| Starring | Dan Simpson & Jordan Richards |
| Country | |