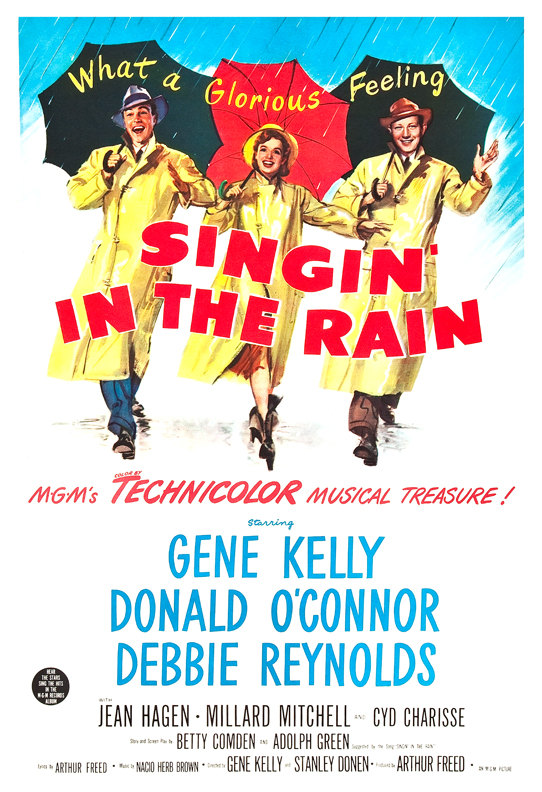 Part of our Sight & Sound Greatest Films series.
We are also hosting a $7 family-friendly matinee screening of Singin' In The Rain.
One of the most famous and beloved musicals of all time, Singin' in the Rain (1952) is set in a 1920s Hollywood on the cusp of the sound era, where a swashbuckling matinee idol (Gene Kelly) falls in love with a bright-eyed newcomer (Debbie Reynolds) while trying to duck his jealous, narcissistic onscreen romantic partner (Jean Hagen) — whose parrot-squawk of a voice makes her distinctly unsuited for the new talking pictures.
Much of the charm of this film lies in the beguiling modesty and cleverness of its musical numbers (including Kelly's immortal performance of the title tune); but Kelly and co-director Stanley Donen go for the grandiose in the penultimate "Broadway Melody" sequence, a riot of stylized sets and bold colours with a spangled, emerald-sheathed Cyd Charisse as its dazzling centrepiece. (TIFF)
Effervescent, life-affirming cinema… an antidote to any ailment, illness, or woes about the state of Hollywood.

Little White Lies
Often considered the finest musical of all time.

Common Sense Media
| | |
| --- | --- |
| Series | |
| Genre | |
| Runtime | 103 minutes |
| Rated | G |
| Directed By | Stanley Donen, Gene Kelly |
| Starring | Gene Kelly, Donald O'Connor, Debbie Reynolds |
| Language | English |
| Country | |