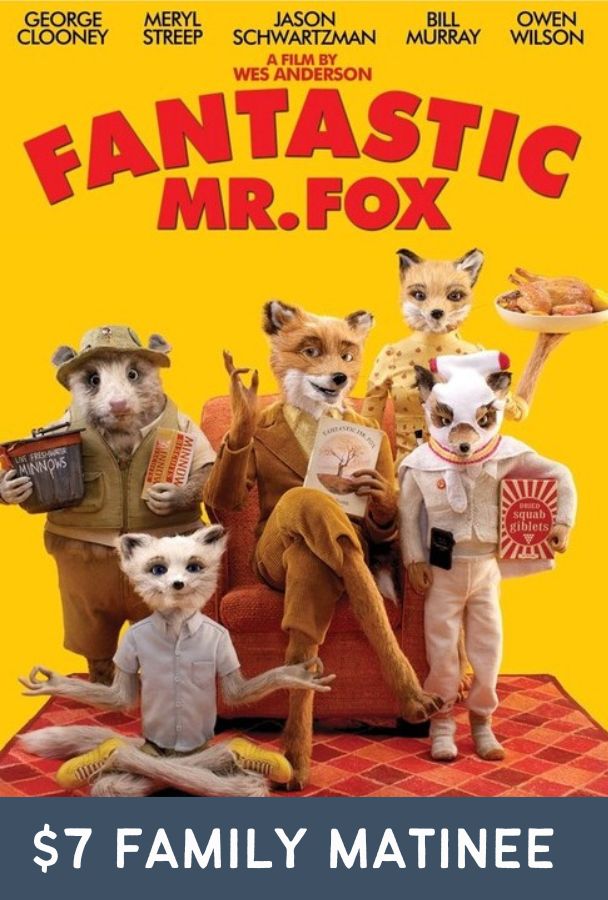 Saturday April 1 @ 1:30pm
This is the first movie in our new $7 Family Matinees series, which will take place on the first Saturday of the month. Other family favourites like E.T., Inside Out, My Neighbor Totoro & The Princess Bride will play in the months ahead.
We will also play evening screenings of Fantastic Mr Fox as part of our Cult Movie Nights series.
A stop motion animated film from Wes Anderson, based on the book by Roald Dahl: After 12 years of bucolic bliss, Mr. Fox (George Clooney) breaks a promise to his wife (Meryl Streep) and raids the farms of their human neighbors, Boggis, Bunce and Bean. Giving in to his animal instincts endangers not only his marriage but also the lives of his family and their animal friends. When the farmers force Mr. Fox and company deep underground, he has to resort to his natural craftiness to rise above the opposition.
Visually, the movie is a wonder, with its profusion of detail and exquisitely focussed "performances" by the figurines, whom Anderson frames in images as precisely composed as those in his live-action work.

New Yorker
A fantastic tale about our inner nature and how we create or not community.

Cinematismo
| | |
| --- | --- |
| Series | |
| Genre | |
| Runtime | 87 minutes |
| Rated | PG |
| Directed By | Wes Anderson (The Grand Budapest Hotel, Isle of Dogs) |
| Starring | George Clooney, Meryl Streep, Bill Murray |
| Country | |