Vintage Poster Exhibit: Vampires and Film History, or… Fangs for the Memories!
October 26, 2022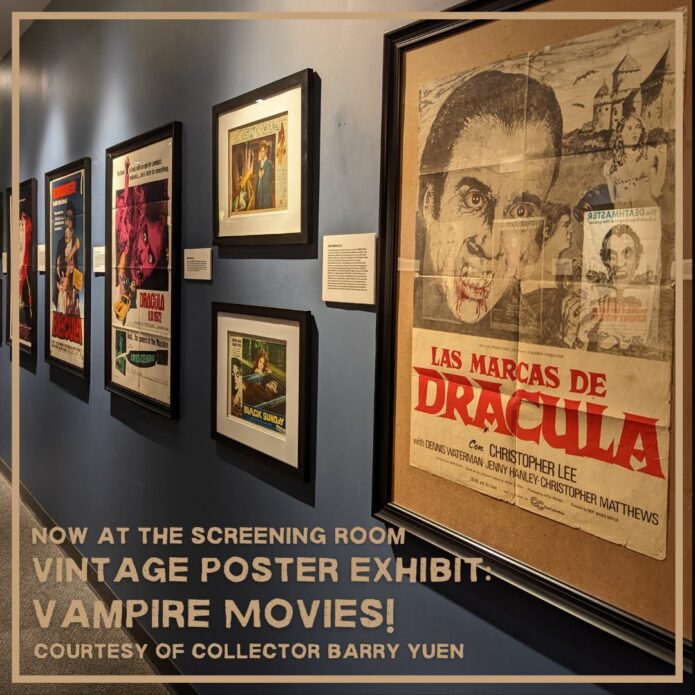 Exhibit currently on display at The Screening Room. Posters & Commentary courtesy of Barry Yuen, a Kingston-based film enthusiast & poster collector.
Bram Stoker's DRACULA is probably the most filmed work of literature EVER…! There are both official and unofficial adaptations of the book, along with literally hundreds of movies which have utilized Stoker's ideas.
The first – and unofficial – adaptation was NOSFERATU in 1922. Although the filmmakers changed all the names of the characters, nobody was fooled, especially Stoker's widow, who sued and got a court order to have all copies of the film destroyed! Luckily, it has survived, and can still be seen today.
BELA LUGOSI was the first actor to officially play DRACULA. He had appeared in the Broadway version, and then re-created the role for the cinema in 1930. Lugosi defined Dracula for generations of filmgoers. The hypnotic eyes, the baleful gaze, the spidery hand gestures, the formal dress sense, complete with red-lined opera cloak, but most of all, the Voice! Lugosi's heavy Hungarian accent defined the character, and set him apart from everyone else in the movie. Anyone doing a Dracula impression will revert to the Lugosi version. "I vant to drink your blooooood!" No such line exists in the film, though. Bela was so perfect in the role that in the mind of the public, he would be known as Dracula forever!
In the 1950's Hammer Films of England had a go at re-making Dracula, and cast Christopher Lee, who would own the role for the latest generation.
Various other actors would play the part in later years, like Frank Langella, Jack Palance, and Gary Oldman, but none of them would make a career out of playing Dracula.
-Barry Yuen
Read the complete exhibit commentary below: